Wood & HDU Signs & Plaques
ALL OF OUR SIGNS & PLAQUES ARE MADE IN THE USA BY AMERICAN CRAFTSMEN
Wood and HDU Signs and Plaques
Welcome!! On this website you can view  over 12,000 designs of carved wood and HDU signs and plaques, one of the largest collection of carved signs & plaques on-line anywhere in the world, for every style and  application.   Our premium custom hand-crafted dimensional signs & plaques are fabricated from the finest materials and are made using superb craftsmanship by skilled and highly talented artists and artisans.We design and manufacture over 7000 beautiful custom signs & plaques each year. About 1/3 of these are carved from wood (Cedar, Redwood, Mahogany, Maple, Oak)  and 2/3 from High-Density-Urethane (HDU).
We show both signs and  plaques on this website, but if you are looking for a wall or podium plaque, we highly recommend you visit our companion website, Wood and Metal Plaques www.woodmetalplaques.com  (click on link). We have three times as many designs for plaques on that site as on this one, it is better organized to find what you are looking for, and there is much additional information on styles, prices, method of mounting, etc. On that website, there are over 3000 designs of stained Mahogany, Cedar, Oak and Maple wood, artist-painted HDU, brass, bronze, copper, and aluminum plated, cast bronze and aluminum, gold and silver leaf gilded, and giclée printed economy  wall,  podium and desk plaques.
This page provides an overview of our carved dimensional wood and High-density-Urethane (HDU) signs & plaques. These are shown in 6 product lines, 1, 2, 3, 5, 6 and 7, To see examples of our various products, please go to our Product Galleries overview page, or click on a title in the numbered gray boxes in the lower left margin to go to a specific photo Gallery. You can also see over 200 of the most recent signs we have made on our Signs-of-the-Month page. That page gives a recent sample of the wide variety of styles and materials we offer for our dimensional signs & plaques.
After reviewing the signs or plaques in your areas of interest, you can get more information, free designs, or a cost quote by sending us the form on the Request an Estimate page or you can call us at 951-698-8484 or EMAIL us at info@artsignworks.com for more information.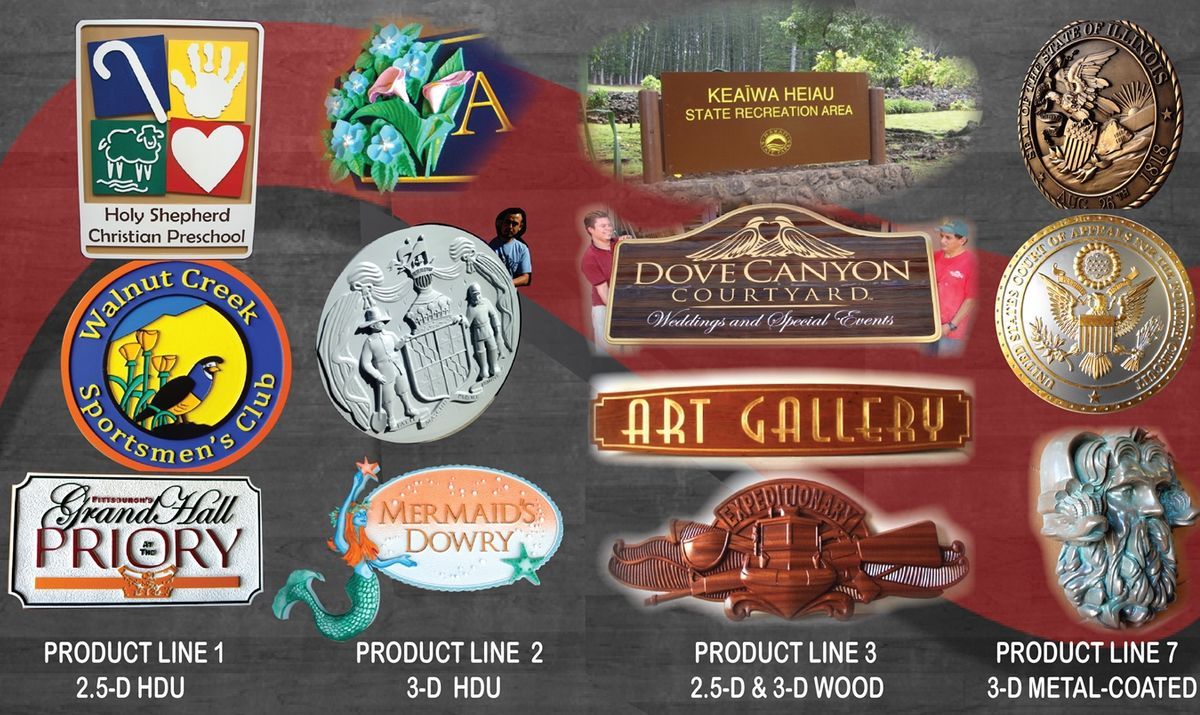 Examples of Signs & Plaques in Four of our 7 Product Lines
Dimensional Wood and HDU Sign and Plaque Specialists. We specialize in designing and building custom dimensional (3-D and 2.5-D) wood and HDU signs and plaques, metal and metal-coated signs, and wrought iron signs and hangers, for businesses and corporations, professional offices of lawyers, doctors and CPAs; residences, farms & ranches, vacation homes on the seashore and in the mountains, government facilities, golf courses, parks, churches, apartments, condominiums, restaurants, resorts and hotels, (see our Product Galleries), all at reasonable prices. We also make 2-D signs using several different substrates including Aluminum sheet, DIBOND (Aluminum sandwich), acrylic, PVC, and MDO board.
We make signs and plaques ranging from 6 inches to 20 feet in width. Our premium grade materials include 20 lb/ft3 and 30 lb/ft3 High Density Urethane (HDU) Precision Board made by Coastal Enterprises, California Redwood and Western Red Cedar, fine furniture-grade premium hardwoods (including Mahogany, Black Walnut, Maple, Red Oak and American Cherry), Color-Core High-Density Polyethelene (HDPE), HDO/MDO, Aluminum, DIBOND, Acrylic, board, PVC, and steel. Dimensional (2.5-D and 3-D) signs have a beauty and elegance flat signs (2-D) do not achieve.
Our dimensional signs are made by one or more of these three methods :(1) letters, borders and artwork elevated over the background, by removing the background through sandblasting or CNC routing ; or (2) letters, borders and art engraved, or carved into the sign's face letters and artwork by hand-carving, CNC-programmed machine carving, or sandblasting (these can be V-cut or U-cut profiles) (3) epoxying/stud-mounting separate cut-out, machine-carved,or cast art sculptures, borders or letters as appliques on the sign substrate surface. This latter technique can combine HDU carved appliques (which can be metal-coated) with a natural wood signboard. We can also combine printed digital vinyl photos (protected against the weather) or flat hand-painted or digitally-printed art with carved wood or HDU sign substrates.
The short U-tube video below shows some of our design and manufacturing processes.
Making  Art Sign Works Signs & Plaques (Click on red arrow to see short 1 minute Video with sound)
Sign Hangers, Scroll Brackets, Posts, Stands and Supports. The Redwood, Cedar and HDU signs can be mounted on your own sign stand, or we can supply wrought-iron and aluminum scroll brackets and posts designed to interface with your sign (see Product Line 4 Gallery) enabling very simple and low cost installation.
Custom Designs for Small and Medium Signs & Plaques. We offer you the quality and distinction of a custom sign at a price often lower than that of a "cookie-cutter" sign or plaque. If you want a specific sign or plaque (e.g., "I want a 16 inch by 18 inch wall plaque with a dark green background and gold border with a picture of a football and a goal post and my son's school emblem in its colors, above it, and his name engraved on it with a bold font with the caption "Most Valuable Player of the Year-2007"), WE CAN DESIGN AND MAKE YOUR CUSTOM SIGN OR PLAQUE for the cost of a standard sign, unlike traditional on-line sign and plaque makers who have standard shapes, colors, fonts and emblems. Ask us - if we are supplied pictures of specific art such as photos, drawings, sketches, logos and emblems, we can design a custom plaque or sign for you at a very reasonable cost. Just because you can't find exactly what you are looking for in the over 7000 photos of designs in our Product Galleries doesn't mean that we can't design and make it for you. We develop color, realistic proofs (sometimes several of them showing different design variations) so you can see EXACTLY what your sign will look like before you order it.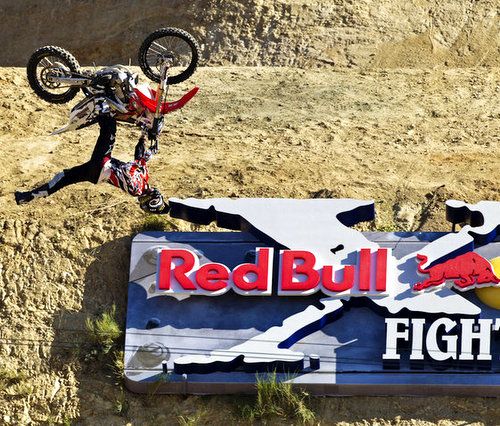 Very Large High-Dimensional HDU Sign (for Extreme Motocross Red Bull X-Fighters Event at Glen Helen, CA)
Large Signs and Large Numbers of Signs for Commercial Customers, both Wholesale (to Sign Shops & other Sign Retailers) and retail (to direct end users). In addition to smaller signs, we also build large wood, HDU, and HDPE dimensional signs (see the Red Bull sign on the right) and painted or vinyl applique DIBOND, acrylic, PVC and aluminum signs. We make signs up to 20 ft x 8 ft, and can ship these by freight anywhere in the USA. The Product Line 5 Gallery), and also some of the Application Galleries (e.g., 14, 16, 19, 25, and 27) show these large signs.
We also can make up to several thousand smaller outdoor or indoor signs of similar style for apartments, condos, retail store and restaurant chains, golf courses, cemeteries, etc. Large Custom signs or a large number of smaller signs (up to 2,000) take up to 7 days for initial PROOF design and 5 to 8 weeks for detailed design and manufacturing.
For large signs and large orders, we work closely with our commercial clients to develop a design that will meet their requirements and stylistic preferences, or in some cases, we build-to-print someone else's design. We do not charge for consulting and developing the initial design. We will give you a firm price after we consult with you to determine your needs and preferred design. We will work with you. if you wish, to arrange for a local installer anywhere in the US and Canada. We work with several installers in Southern California.
We design and build large dimensional signs ranging from simple sand-blasted text and art to complex and elaborate signs with one or more of the following: large and detailed hand-carved or machine-carved /sculptures, hand-painted or gold-leaf-gilded art; cut-out letters including beveled (prismatic) letters of many font styles; hand-carved incised (engraved) prismatic (V-cut) gold-leaf-gilded letters; bronze, brass, copper, silver-nickel and antique iron - coated plaques; elaborate sculptures or carvings used as appliqués ; multi-level signs; antique rustic signs from aged barn-wood; unique sign shapes or structure; internal steel box structure; adaptors to attach sign to monument base, posts, or wall; posts , wood and steel finials & lateral beams;stone & brick monuments; and EPS foam monuments.
Entrance and Monument Signs. In the Southern California area, we build business and community entrance signs and monument signs with bases and pillars made of reinforced concrete, brick, stone, wood, and stucco , with HDU, wood, marble, granite or bronze faces, and metal (aluminum, bronze, gold, steel). We also provide hardened EPS foam faux stucco, brick and stone monument bases and pillars , integrated with our HDU or wood signs, all over the USA. We can install our wall, roof, blade, monument, and post & panel signs in the Southern California area, including the support structure and lighting, and if you wish, we will arrange for an installer in your area within the US or Canada. Please click on Product Line 6 Gallery to view all of our Monument sign types.
Easy to order . Our customers love our signs and plaques, but they also love our personal service. We are the "Friendly Signmakers"! We pride ourselves on our responsiveness and flexibility in working with customers.Our friendly and expert customer service representatives, Christie and Regina, will work closely with you from your initial inquiry all the way through production and delivery of your sign(s). You as a customer will get an opportunity to review and approve personalized or customized designs by reviewing our PROOF via e-mail before we build your sign or plaque.We want to make the process of doing business with us as easy as possible. To see what our customers think of us, please visit our Customer Satisfaction page. To choose a design, we recommend you first visit the Product Galleries page; we have over 7000 examples of our suigns & wall plaques, which are well-organized and sorted by application. You can make an inquiry, ask for advice, request an estimate or place an order for your custom sign or wall plaque through this website. Please email us at info@artsignworks.com or call us at 951-698-8484. Or, if you like a given type of sign or plaque, you can go to the Request an Estimate page, fill out the short form referencing the sign's Product ID number (e.g., M2315) and modifications you want made, and send it to us. We have very friendly and knowledgeable customer service representatives (Christie and Regina) who will be happy to help you. We welcome casual and information only inquiries, and we have a "No hassle, no-pressure" sales policy. Call us or email us today to get more information or to get your sign design started!
Our Signs Have Long Life and Low maintenance.  We use the very best materials and manufacturing processes to create signs which have a very long life (20+ years for HDU Signs) and require very little maintenance. We provide a warranty of 2 years, and we expect our HDU and indoor wood signs to last for several decades.
 We carve our HDU signs and plaques out of premium ultra High-Density-Urethane (HDU) Precision Board Plus sheets  made by Coastal Enterprises, in Orange, CA. We use 20 lb/ft3 HDU for all our signs & plaques, which is 30% denser and stronger than the 15 lb/ft3 HDU used by other sign manufacturing companies. Our signs carve cleaner, last longer, and are less susceptible to impact damage than HDU signs made by other companies.
We use prime, kiln-dried, knot-free, vertical grain all-heart Redwood, Cedar, and Mahogany that are supplied by Forest Plywood and Wood Products.
We use exclusively Ultra Low VOC  Matthews automotive-type 2-part polyurethane acrylic paint and clear-coats ,  which  are UV and graffitti resistance, so there is very little fading when the sign is exposed to direct sunlight, and graffiti can usually be cleaned off with acetone. Matthews paints cost $200/gallon, compared to house paints which cost $30/gallon that most other sign companies use. Matthews MAP will last  20 years or more before repainting.We use 1-Shot Low  VOC Oil-Based High Gloss Lettering Enamels for text and artwork. 1Shot is simply the best (and most expensive) lettering enamel in the world. It costs $250/gallon.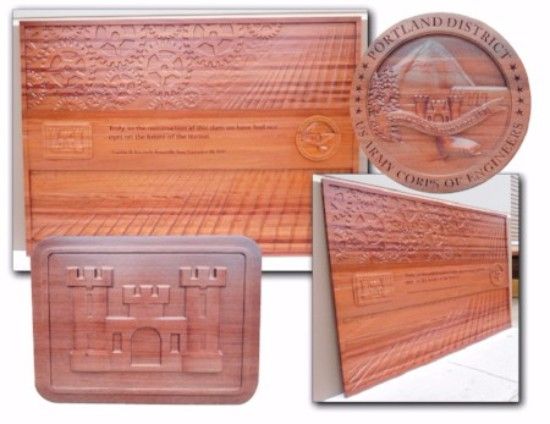 Our Signs & Plaques are Environmentally Friendly.   We are a "green" company. Of course, our domestic and imported wood signs are "Green". We only use wood from renewable forests that use environmentally sound practices. For every wood sign we sell, we donate  money to  Arbor Day Foundation to plant two to five  trees, depending on the size of the sign, .to support important tree planting efforts around the globe. .
Our  Precision Board Plus HDU is made out of special eco-friendly components, including state-of-the-art 'green urethane' formulations.The new Plus formulation has achieved a certified "Carbon Balance" of 3 to 1 and a "Rapidly Renewable resource Content" of 23.9%.
We use environmentally friendly stains, primers, topcoats and clear-coats. We also use environmentally friendly primers, stains, topcoats and clear-coats. The Minwax stains we use are Low VOC. Matthews Ultra Low VOC polyurethane acrylic paints and clear-coats limit VOC to less than 50 g/L while providing greater durability, gloss retention and hiding than standard acrylic polyurethane paints provide.We also use a Low VOC version of 1-Shot sign enamel for painting text, borders and artwork. 
All our manufacturing and painting processes are Green, with minimal air pollution, because we  our dust collectors, paint spray booths, and fully-enclosed and recyclable sandblast booths cause very low air pollution and carbon emissions.
​
ART SIGNWORKS INC.


D&B PowerProfiles online business directory

Custom dimensional wood, metal and foam signs
Loading