Signs of the Month
ALL OF OUR SIGNS & PLAQUES ARE MADE IN THE USA BY AMERICAN CRAFTSMEN
Signs & Plaques of the Month - March , April and May

Below are a Few of the Signs & Plaques We Made in the Last Few Months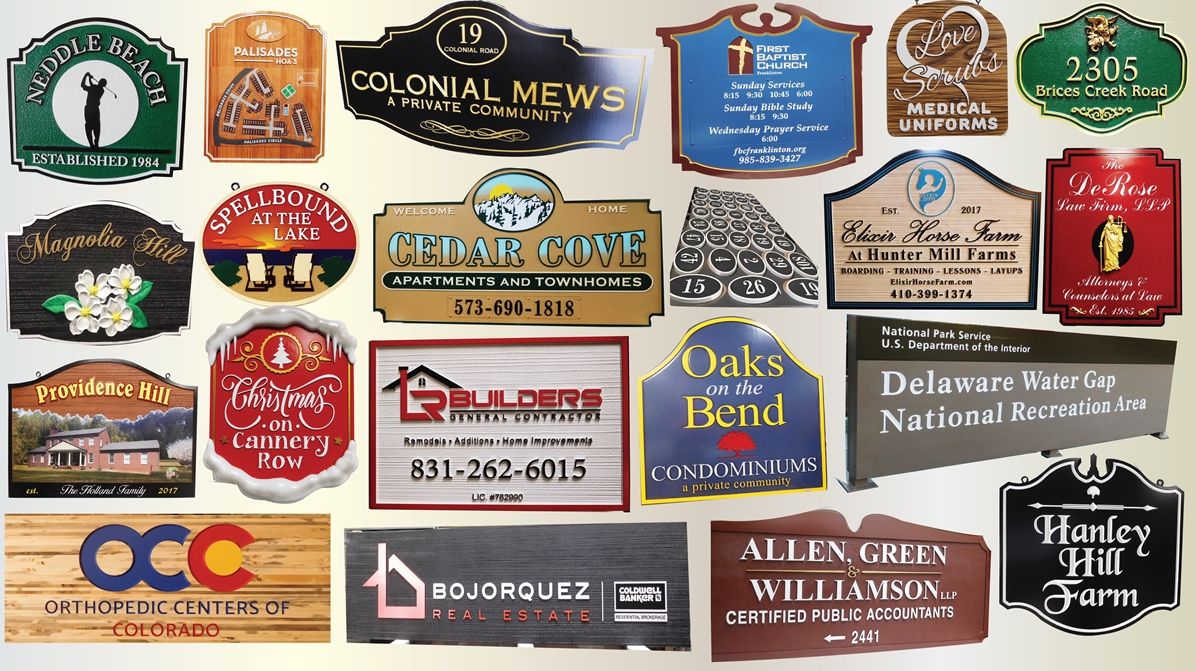 Recent Signs we have designed and fabricated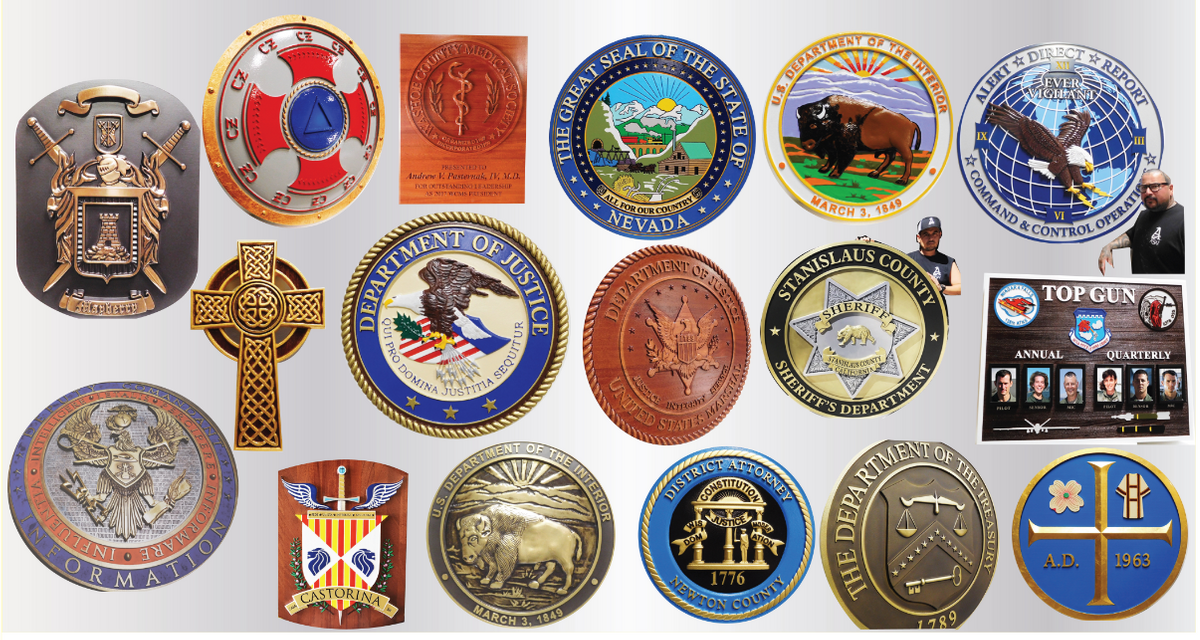 Recent Plaques we have designed and fabricated
This page shows  some of the beautiful signs & plaques we have  made in March , April and May for our valued clients. These are included in our 45 photo Galleries  among our 12,000 other photos. However, this page hi-lights the  new designs that we have developed in cooperation with our clients, who we work closely with to implement their ideas on desired sign shapes, artwork, colors, text, font styles, etc. We often incorporate their logos, seals, crests,  or favorite artwork into the designs of their signs; others we design from scratch or modify one of our existing designs. We also build to print existing designs using drawings or photos of existing signs.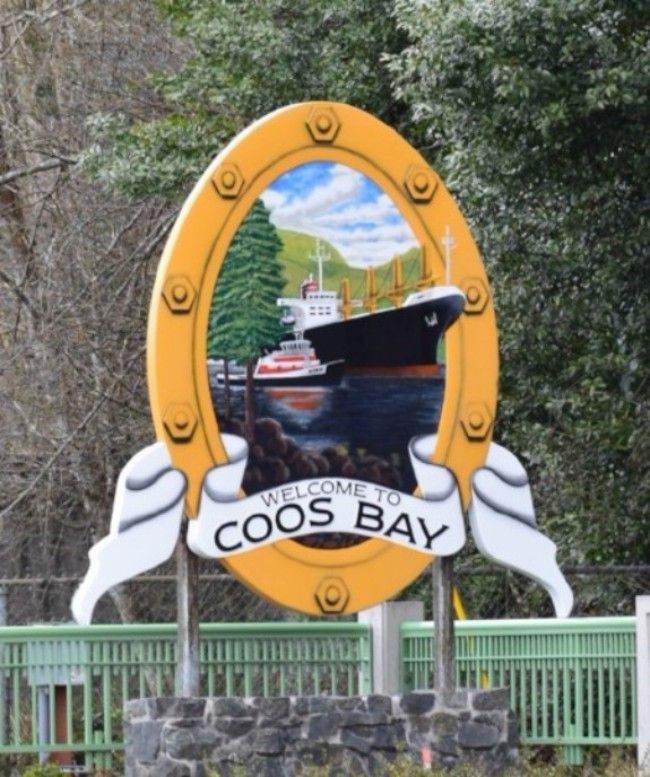 Sign of the Year
The signs & plaques shown below represent the wide variety of designs we make. These can be:
 Size - large or small, 4 inches to 25 ft
 Location - outside  or inside
 Mounting method - wall, between posts, mounted on monument, hung from wrought iron scroll bar or beam
 Style - simple, elegant, ornate,commercial, professional, natural, or rustic
 Dimensionality & Relief - 2.5-D , 3-D  or engraved
 Materials -  Cedar, Redwood, Mahogany, Maple, Oak, High-Density-Urethane (HDU), Color-Core HDPE, or aluminum
 Surface Treatment -painted, stained, metal-coated (bronze, brass, copper, nickel-silver, aluminum, stainless steel).  gold-leafed, silver-leafed
 Hardware  Support - none,  perimeter frame, aluminum backing plate, back reinforcement steel bars, steel side bars
 Attachment Technique- keyhole, Z-clip, French cleat, L-bracket, threaded studs, side bars, eye-hooks
The signs shown here are also included in  our 45 photo Galleries (the Gallery where a sign is located is indicated  in the title). These signs & plaques on this page are listed in order of  the Gallery they are placed in. To see more signs like these, please click on a numbered gray box in the lower left margin to go to that Gallery.
This is not a comprehensive list of the more than 600  signs & plaques  we made in  February, March and April- these are just some of our favorites! This page is updated every  couple of months with new designs.
PRICES. Our custom designed smaller 2.5-D signs, 14 inches to 24 inches wide, have retail prices that range from $99 to $250+. Medium size single-face signs, from 24 inches to 48 inches wide, have retail prices from $200 to $800 and up. Large signs, from 48 inches to 96 inches, have retail prices from $700 to $1800 and up. Our sign prices depend primarily on sign area, whether they are single or double-faced, their design detail and complexity (e.g., number of paint colors and amount of hand-painting, and any special features (e.g., steel reinforcements and frames, overlays, gold leaf, etc.). These prices do not include posts or support structures, which we sell separately. More detailed information on sign retail prices, along with their design features, are described on the Price, Size, and Design Features page. We show exact sign prices for 170 of our smaller (14 inch to 24 inch in  width) standard personalized sign & plaques on our Gallery 9 page, Standard Signs & Plaques
CONTACT US. Please call or email us for a price quote on a specific sign or plaque. We will work with you to design and build the exact one you want. Our knowledgeable and helpful Customer Service Representatives, Christie and Regina, will respond to your request promptly. Call us at 951-698-8484 or email us at info@artsignworks.com, or you can fill out and submit our on-line Request an Estimate Form. We would like very much to make your custom sign or plaque, and we are confident that you will be pleased with it. We take great pride in every product we make for our valued clients. We offer a 2 year warranty on all our products in any climate. Please contact us today so we can get your sign or plaque design initiated.
HOW TO NAVIGATE THIS SITE. You can scroll down this page to see more sign designs by using the slider on the scroll bar at right edge of this page. You can enlarge a photo and get information on the sign by clicking on the photo. After you enlarge a photo, to return to this Gallery page, click on  "Return to List" at the bottom right of the photo or text. Other photo Galleries can be viewed by clicking on a numbered gray box in the lower left margin. You can search for a specific type of sign on this website by using the Google search box on the right side of the  header on top of this page. Business web pages (e,g, prices & design options, request a quote, place an order ) can be viewed by clicking on a gray box in the upper left margin. Other informational web pages, including our Home Page,  can be visited by clicking on dark gray tabs at the top of the page in the header.