WHOLESALE PRICES for Sign Retailers and Resellers
Wholesale Signs for Retailers and Resellers

ALL OF OUR SIGNS & PLAQUES ARE MADE IN THE USA BY AMERICAN CRAFTSMEN
Art Sign Works, Inc, designs, manufactures and sells artist-painted 2.5-D raised, engraved and 3-D carved HDU, stained and painted wood (Mahogany, Western Red Cedar, Redwood, Maple, Oak, Cherry), and metal-coated (bronze, brass, copper, silver-nickel, aluminum)  signs and plaques  at wholesale prices to retailers and sign  & plaque sellers (sign shops, design studios, sign integrators, distributors, trophy shops, installers, individual sales reps, and general contractors) all over the US and Canada. We are very competitive in our prices; a recent survey showed we have  10% to 30% lower wholesale prices (including shipping) than  other wholesale manufacturers for most of our products, and we are the only manufacturer in the US for some of our products (bronze, brass, and aluminum-plated 2.5-D and 3-D plaques, carved hardwood  3-D signs & plaques, and gold and silver-leafed gilded signs & plaques). We offer a 4 week guaranteed fabrication turnaround time (after the production proof is approved), and have the best customer service in the trade. We are also one of the very few national manufacturers that designs and fabricates custom steel,  aluminum, and wood mounting and structural sign and plaque support hardware.  
We have three large websites, www.artsignworks.com,  www.woodmetalplaques.com, and www.artsignworks.net. We have a fourth unbranded website made especially for re-sellers and distributors under development. You can download our product catalog by clicking on this link, Art Sign Works Signs & Plaque Catalog. It is a 52 page PDF  catalog so it may take 10 to 20 seconds or so to download, depending on your download speed. Our wholesale price lists are provided in our Wholesale Prices for Signs & Plaques catalog,  which we can send you a link to download if you request it. Also, If you are a sign re-seller and  email us  at info@artsignworks.com , we will be pleased to send you printed copies of these two catalogs in a few days. Our approximate retail prices are shown in our web page  Retail Prices on this website; however, our wholesale prices are substantially less than the retail prices shown on this page.  Our Home Page can be visited on clicking on the black right hand tab in the header. Call us at 951-698-8484 or EMAIL us at info@artsignworks.com for more information.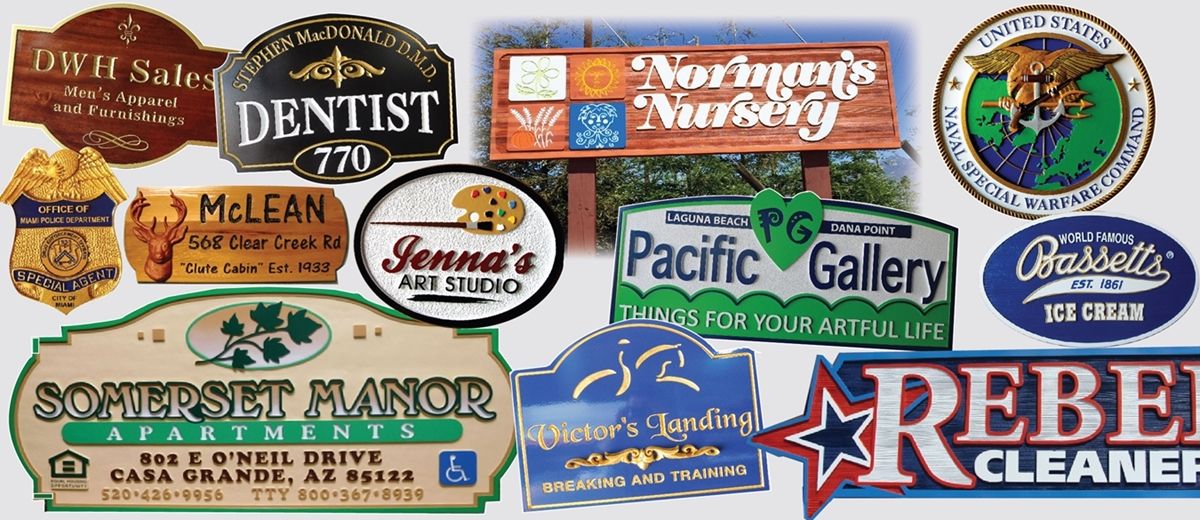 To: President/Owners/Marketing Managers of Sign Shops, Design Studios, Sign Retail Stores, Award & Trophy Shops,  or Sales Agents/Brokers.
Are you interested in increasing your net income without any additional investment or cash flow issues? Do you want to offer  carved and dimensional outdoor & indoor wood and HDU signs and plaques to commercial, government and residential customers? Did someone come into your shop and ask if you sell carved wood or HDU signs or plaques and you had to say no? Are you looking for a professional manufacturer for high-quality wood & HDU signs? Are you dissatisfied with your current HDU or wood  sign or plaque fabrication vendor because they are too expensive, too slow, or provide products with inconsistent quality? You may be interested in our offer to sell dimensional HDU, wood, HDPE, and bronze-, brass- and aluminum-plated signs and plaques which are presented on this page.
Art Sign Works is a specialized custom wood and High Density Urethane (HDU) sign & plaque manufacturing company located in Southern California. We make CNC routed, sandblasted and hand-carved and layered 2.5-D (multi-level flat relief) , 3-D (three-dimensional bas-relief), and engraved (incised) signs, from simple single-level sandblasted signs to high-end 3-D complex carved signs with sculptured artwork. We have been in business over 15 years, and have tens of thousands of satisfied clients across the US and overseas. We design and fabricate over 5000 HDU and wood signs each year for over 250 sign retailers, both independent sign companies and franchise stores such as FastSigns, Signarama, Signs by Tomorrow, and SignWorld.  We are a preferred supplier to FastSigns, Signs by Tomorrow, and SignWorld.
We presently have a  successful National factory-direct internet retail business with commercial companies and businesses, Federal, State and City governments, the military, apartments, farms, residences and vacation homes. Our plaques and signs are in the White House, Air Force One, Congress, the Supreme Court and hundreds of other Federal, state and city courts, dozens of state capitals,  and the Pentagon. However, in the last 5 years we have been emphasizing the expansion of our wholesale business to more sign shops, sign retailers,  brokers, and sign design studios in the US and Canada who do not have the in-house capability of manufacturing wood and HDU signs.
We design and fabricate both finished signs (painted, naturally finished wood, or metal-plated) and unfinished signs, and securely ship them to all locations in the US and many other countries in bomb-proof wooden crates. We also sell both custom and standard wood and wrought iron aluminum sign posts, bases, finials, scroll brackets, hangers, frames, with hardware attachments, to make it easy for you to install the signs. Our complete signs and plaques come as an easy to assemble kit, with all fasteners and instruction sheet. We offer low wholesale prices on the highest-quality signs and plaques available in the industry.
Why select us over other HDU and sign manufacturers? Because (1) we fabricate very high quality signs using excellent craftsmanship, advanced software and precision carving machines,  and use the best materials available (20 lb/ft3 premium HDU, Matthews and 1-Shot paints, prime A-grade wood); (2) we provide free design support with multiple proofs if you do not have a finished drawing file;  (3) we have great  customer service, with an expert  representative assigned to your project that will provide you with end-to-end responsive support including  design proofs , visibility on  fabrication status, in-process and final photos of your signs, and shipping information; and (4) we have very competitive prices, and we will generally match or offer you a lower price than other manufacturers for an equivalent quality product.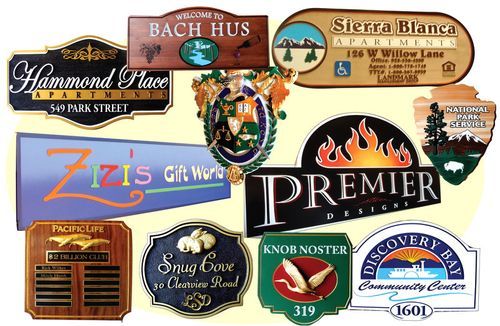 Great Looking, High-Quality Products
We make beautiful and attractive signs and plaques, perfected by continuous improvement over the last 15 years of our design and manufacturing processes and material selections. We have evolved from making signs using lower cost, lower lifetime materials and simple sandblasted signs to a signs and plaques made with state-of-the-art manufacturing facility. We use a seamless Computer Design & Manufacturing (CADAM) methodology centered around our extensive software and five large-table CNC routers. This methodology  provides high efficiency, a maximum degree of automation, consistent high quality, and zero defects, which then allows ample time  for our experienced craftsmen and artisans to create beautiful and flawless signs and plaques we are proud of and you will be pleased with.
We use the finest materials available to make our signs and plaques. We use 20 lb/ft3 Precision Board HDU for our signs and plaques, depending in the application. We changed   from 15 lb/ft3 HDU (which nearly all other HDU sign manufacturers use) seven years ago, in order to improve our precision on fine details, to add strength, and to increase sign lifetime. All of our High-Density-Urethane (HDU) signs have a special high-fill polyurethane acrylic primer sprayed  on the entire sign before painting. We use two part premium Matthews Polyurethane Acrylic paint (MAP) (an automotive quality paint) for background colors  and 1-Shot Sign enamels for text, art and border colors. After painting, staining or metal-plating, all our signs and plaques receive 2 coats of Matthews clear coat polyurethane for extra protection from UV and graffiti. We guarantee minimal color fading for 7 years. We do not use house paints; these have a problem in that bright color paints start to fade after 2 or 3 years in the sun, whereas Matthews  polyurethane acrylic topcoats and clear-coats have strong UV and also graffiti protection. Our paints cost $150-$200./gallon, compared to $30-$35/gallon for house paints, but they are worth it.
We use knot-free California Redwood (clear heart A grade) or premium Western Red Cedar panels that use edge glued strips bonded together by high pressure hydraulic machines.  We also make African Mahogany, American Maple, Black Walnut, and Red Oak plaques and signs using furniture grade hardwood. Our wood sign panels are made by Forest Plywood and Lumber Company, a nearby wood product manufacturer that specializes in Cedar, Redwood, African Mahogany, and other hardwood products.
Prices
Call us for competitive pricing, and we will be pleased to send you our printed Wholesale Price  Catalog or send you a download link. Our wholesale prices are among the lowest prices offered in the US. Our wholesale prices are not listed here for competitive reasons,  but they are substantially lower than the retail prices listed in our Retail Price List page on this website. We  usually have prices 10% to 30% lower than other wholesale sign companies in our competitive bids, even though we use higher-quality materials, develop designs at no cost, and  provide outstanding  customer service. We keep our prices low due to  volume,  modern technology and efficient manufacturing, yet our craftsmen and artisans employ superb craftsmanship.   We have the following business advantages which allow us to offer low prices for our high-quality products:
(1) High volume.  We make over 5000 HDU and wood signs each year. This allows us to get substantial discounts on materials and reduces costly idle labor time, because we always have a full shop. 
(2) Automated and efficient modern equipment, including 5 large table Computer-Numerically-Controlled (CNC)  routers, including two with automatic tool changers, and large certified sandblast and paint sprays booths.
(3) State-of-the- Art design software, including Illustrator, Aspire, and other 3-D geometric modelling software programs such as Maya and Z-brush, plus a library of over 15,000 sign and plaque 2.5-D and 3-D custom design graphic software files we have developed over the last 15 years,  which gives us the capability to make fast and responsive designs. We have three degreed graphic artists on our staff who are very proficient in using this software. 
(4) A very capable integrated ERP (Enterprise Resource Planning) / POS (Point of Sale) software management system designed especially for sign companies, ShopVOX. This user-friendly system allows us to manage, track, status and evaluate the business processes of quoting, designing, fabricating, performing QA, and shipping  each of our signs or plaques through the 15 or 20 steps required to produce a high-quality sign or plaque. ShopVOX  also keeps track of all  orders, invoices and payments for each client. This allows a very efficient  operation and reduces our employee's administrative time which might have been be wasted  managing  and tracking the hundreds of orders in our factory at any given time.
(5) Creative, experienced, skilled and talented employees. Our team of 20  designers, craftsmen, artisans, fine painters, graphic  artists & designers,   and customer service representatives take great pride in making beautiful signs & plaques, using Old World craftsmanship. Every sign or is considered a work of art. Many of our employees have been with the company 10 years or longer, and all are highly motivated and take pride in making gorgeous and stunning  carved signs and plaques.
Concerned about shipping costs? Don't, because we buy all our heavy sign materials (HDU, wood, paint) locally and therefore do not have to pay shipping costs  that other manufacturers in the Midwest or East Coast do, so our lower prices usually compensate for possibly higher shipping costs. We ship by UPS Ground or common freight for large signs, up to 24 ft wide and 10 feet high. We will blind ship direct to your customer if requested.
For very large orders of multiple signs or large signs (over 50 ft2 total signage area), there are substantial discounts  below our normal wholesale price.
 Capabilities and Services
We have capabilities and offer services that most HDU and wood  sandblast sign manufacturers do not have, such as:
Outstanding customer service. One of our three experienced, expert, helpful customer service representatives  (Christie, Regina, or Liz) will be assigned to work directly with you to make sure your requirements are met and you know the status of the sign you have ordered. She will work with you from the time you first contact us until your sign arrives to your facility safely. She will answer your questions, send you proofs, tell you the status of your sign in the production line, and send you photos of the sign during fabrication and before it ships.
Developing or enhancing the sign design if it is not supplied. You do NOT have to provide production ready vector files (e.g., Illustrator or EPS), because our designers will work with you, if you request help, to design your perfect sign or plaque. However, we will also "Build-to-print" if you do supply a finished design. We accept sketches, JPEG, PNG or PDF files of photos or drawings, and vector file drawings (AI or  EPS). We do not charge for our design services, unless you require a new 3-D geometric model (for 3-D signs or plaques only) that we use to control our 3-D computer-controlled carving machines. However, very few designs need this, because we have over 3000 3-D geometric files of signs and plaques in our software libraries which we have made previously.
Carving 2.5-D 3-D art and letters with our five large table (up to 12 x 5 ft) CNC router/carving machines. We have an extensive  library of software to carve intricate and beautiful 2.5-D multi-level flat relief and 3-D bas-relief sculptures we can put on signs. (See Product Line 2 on this website)
Prismatic and beveled/rounded raised letters of any font style
Gold, silver and copper-leaf gilded letters, art, borders and backgrounds (see Product Line 7 on this website)
Bronze, brass, copper,, German silver,  and aluminum-plating on any 2.5-D,  3-D carved or engraved HDU sign. These can have darkened patina or painted backgrounds , or bright hi-polish finishes (see Product Line 7 )
Textured backgrounds with complex carvings (using the CNC routers) (See Product Line 2 )
Beautiful and complex artist brush and air brush paintings, for either 2.5-D flat-relief or 3-D carved art
Elaborate and intricate borders and flourishes (See Product Line 2 )
Multi-level and built-up layered  signs with overlays (See Product Lines 2 and 5)
Fine furniture-grade hardwood plaques  and signs using Mahogany, Cherry, Maple, Alder, Walnut and Oak, in addition to softwoods such as Redwood, Cedar, and Douglas Fir (See Product Line 3)
Aged, antiqued, scorched, and rustic wood signs using vintage barn-wood and proprietary finishing techniques.(See Product Line 3) .
Precision small-scale engraving on wood, HDU, glass or metal using a laser engraver.
Composite and hybrid signs, using several of the above techniques plus digitally printed vinyl appliques with clear coat finishes (See Product Line 2)
Precision cutting , bending and  welding of complex 2-D shapes on aluminum or iron sheet metal, using a waterjet CNC cutter and welding machines (See Product Lines 4 and 7)
Wrought iron and aluminum posts, frames and scroll brackets, custom made to fit a sign (See Product Line 4)
Wood posts, decorative carved finials and bases, laterals, and EPS monument sign bases (See Product Line 6).
We offer most of these additional features at wholesale prices only slightly higher than the prices that discount sandblasted sign-makers charge for basic 2.5-D sandblasted or routed signs. We charge only for the features you want; our pricing models ensures we have the lowest possible prices for basic signs and plaques. Whether you have a simple or  a complex design that you want made, we are the company that can do it, at a very reasonable price. If you can describe it or draw it, we can make it !
 Sign Retailers are Our Favorite Clients
We presently supply our products on a wholesale basis to approximately 250 sign shops, designer firms,  brokers, marketing and branding firms, sign integrators and installers, and general contractors in the US, including many independent sign companies, as well as franchise stores such as Signs by Tomorrow, FASTSIGNS,  Signarama and SignWorld. We offer fast response, and can usually guarantee 4  week turnaround. Some examples of our signs are shown in the photo above and on the rest of this website, www.ArtSignWorks.com (You can click on the "Home" for an overview of the company and products, or the "Product Gallery" tab top left of this page, or any of the Galleries with light gray tabs in the lower left margin).
If you are an established sign retailer, please consider selling our sign products under your brand. You can order signs or plaques based on any of  the 12,000 designs on this website www.artsignworks.com. or the 3000 wall and podium plaque designs  on our other website Wood & Metal Plaques,  or you can use your own designs and provide files in EPS or AI vector format. If you do not have a design suitable for production, we will work with you to develop a design file suitable for CNC router carving, at no cost to you. 
Your Profit Margins 
We will provide a quote on a sign-by-sign or order-by-order basis, which you will mark up with your costs and profit margins before you submit your bid to the customer.  You are the interface with your customer; we design and fabricate the sign at your direction. We deliver ready for simple, easy installation, including installation hardware and instructions, if you want it . We have no "suggested retail price" but most retailers mark up our wholesale prices by 30% to 100%, plus their  own costs. Your clients will not see the words "Art Sign Works" or our website address; our catalogs, posters, invoices and shipping labels are all unbranded. Feel free to add your name and logo on any of the material you receive from us. We will do blind shipping direct to your customer if you wish. 
Marketing Package
If you request it, we will ship you a marketing package consisting of (1) our unbranded 52 page wholesale "Catalog of Custom Dimensional Wood and HDU Signs and Plaques"  in color printed  copy; (2) a wholesale price list catalog; (3) an unbranded carved HDU sample sign that shows various carving and sandblasted styles (custom example shown below); (4) a small  unbranded  desktop "tent" display which advertises carved and "Dimensional Signs & Plaques" (5) an unbranded printed color marketing brochure that shows a few examples of carved HDU, wood and HDPE signs; (6) an unbranded color wall poster 17  x 22 inches (shown below) and (7) a handbook on suggestions on how  to effectively sell carved dimensional signs, including answers to common questions. This is all free of charge to you; you do not even have to pay postage.
You can download Items (1) , our 52 page wholesale Catalog, and (7) , our Sellers Handbook, in PDF format by clicking on the links below, and you can download (2), the Wholesale Price List if you send us an email with your company's name. We will then we will send a link to download the Wholesale Price List, or we will send you printed copies in a few days if you request it by phone or email . These documents provide an overview of our products and possible customers, but our three websites www.artsignworks.com , www.woodmetalplaques.com, and www.artsignworks.net provide a much more comprehensive look at the over 15,000 different sign applications and styles we offer.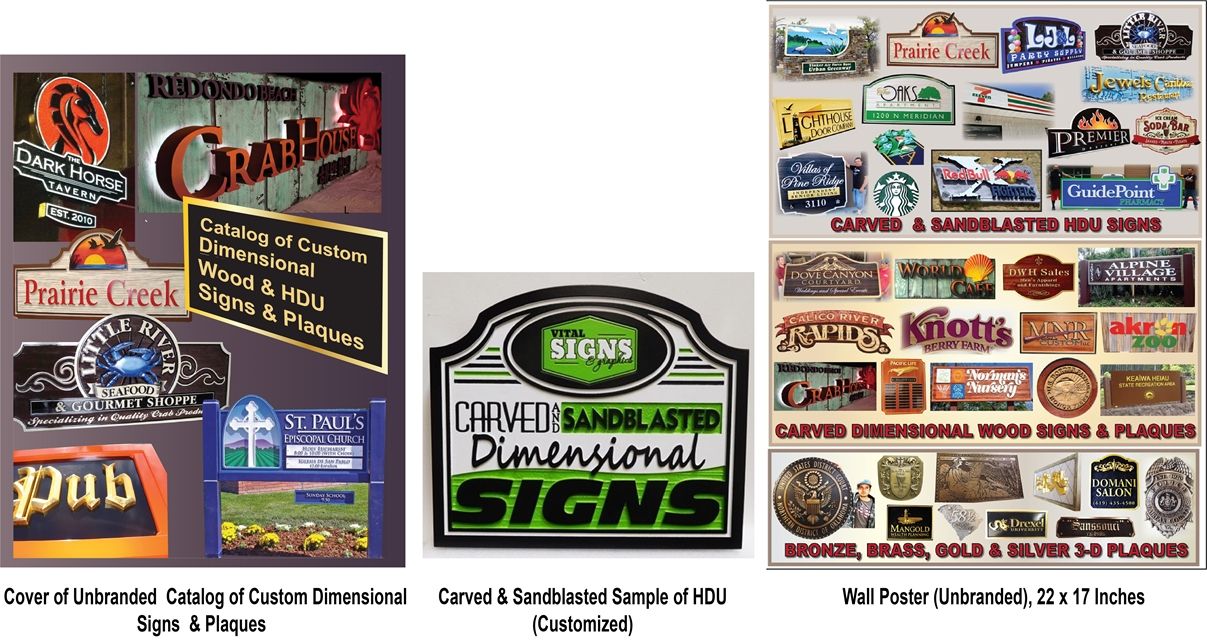 Our Design & Manufacturing Capability
We produce high-quality sandblasted, engraved, and hand-carved wood and HDU signs in our state-of-the art design and manufacturing factory. Our design computer programs include Adobe Illustrator CS5, Aspire 2.5 3-D Modeling, Maya, Z-Brush,  a large library of Vector 3-D clipart, and V-Carve Pro 3-D software. We have very capable SOA woodworking and paint shops, with a high capacity sand blast booth and a paint spray and airbrush booth that can handle 15 ft signs, five large-table (12 ft x 5 ft) CNC routers, several saws, a drill press, a planer,a large belt sander, small powered tools, and hand carving and painting tools. We also have a complete wrought iron and aluminum manufacturing capability (cutting, bending, drilling, welding, and coating) and make  steel, aluminum  and wood sign hangers and support structures. We have the capability of producing over 100 medium and large signs per week. We have a warranty on all our signs for 2 years and guarantee your satisfaction on the delivered products (including shipping ) - you have no risk as the retailer except for specification errors in the drawings or other info you send to us.
Proposed Business Relationship
You need make no investment nor do you have to carry any inventory.
.We charge no fees; everything we supply to you is free (except our signs!).  We provide you at no charge a sample HDU sandblasted sign, an unbranded 52 page catalog, an unbranded wall poster, a seller's handbook, a table tent display, and a wholesale price list. .
No special advertising is required; that is up to you.You may use any of our website photos, unbranded posters, or unbranded catalog in your advertising without attribution.
We  have a standard buyer-vendor relationship on an order-by-order basis.,You can work with other wood or HDU sign manufacturers , but you cannot use any of Art Sign Work's designs in that case; all of our sign designs are the intellectual property of Art Sign Works, Inc and are covered under various trademarks.
 Your commitment is our commitment . We honor our schedule commitments (typically 4 weeks plus shipping) You can terminate our relationship at any time for any reason by simply not ordering more signs.
Positive cash flow. We generally require a 50%  payment on most signs, which you should be able to collect from your customer. The remainder of the payment is due the day we ship to you.  We require a valid credit card be on file with us at the time of your first order so we can charge it the day we ship your sign(s).
Low marketing cost in carrying our products; no special equipment is required. Additional advertising is up to you but is generally not necessary; just add "sandblasted signs", "engraved wood signs", "carved wood signs", and "wrought iron hangers" onto your list of products in your normal advertising.
We guarantee our products. If our products fall below professional standards in workmanship or we make an error, we of course will either fix the product, replace it, or refund your money. We have a two year warranty on all our products.
Improve Your Bottom-Line
This is a great opportunity for you to add hundreds of attractive, below market-priced products to your portfolio at no cost, no risk, positive cash flow, and minimal impact on your operations. Many of our retail partners sell one to four signs/month, with an average order sale price of $2000. For design studios and sign companies with larger signage contracts (e.g., hotels, apartment and condo complexes, community colleges, resorts, etc), we supply quotes on build-to-print basis the signs you want, and you can integrate and install the signage or component parts. If you charge the client for sign design, this cost will be covered, or we will do the design and supply proofs to you for our standard signs. There is no down side, you have no fixed overhead associated with these products. If no one ever buys a dimensional wood sign, your expenses are basically zero other than any special advertising you may do. For more information, or to receive a wholesale price list, catalog, sales brochure, and HDU sign sample, please call or email us (given below). We will need your resale certificate. Our main Office Number is (951) 698-8484. Ask for Christie,  Regina, or Liz. You can email us info@ArtSignWorks.com. We look forward to hearing from you and working with you on projects in the future.
Paul Williamson, President/Owner/Founder, Art Sign Works,Inc